It has been over ten years since Android was first outed by Google, and back then it was hard to imagine the sheer number of apps we'd have today.
There are apps for everything, and many of them are completely free, meaning you're just a few downloads away from supercharging your smartphone at no extra cost.
Admittedly, the huge quantity of apps doesn't mean they're all quality - far from it in fact, and finding the good ones can be tough.
There are tools and techniques to help, with various lists in the Play Store providing you with Editor's Picks across a range of categories, new releases and even apps that are specifically recommended for you based on your previous installs.
You can also hunt out apps that are similar to your favorites by searching for an app you have and seeing what else comes up.
And checking out user reviews and ratings can save you from downloading a dud of an app.
But even with all that, the sheer number of apps on Google Play means many of the best can often get lost, while weaker ones sometimes rise to the top.
So to make sure you never install a duff app here's our selection of the best you should install right now - each one carefully chosen to ensure you'll have a whole suite of fun, engaging and, dammit, useful apps on your phone or tablet.
We've sorted them into categories so you can more easily find what you're looking for. But make sure to check back weekly for our free Android apps of the week, which you'll find below.
Best free Android apps of the week
Each week we add two apps to this list and you'll find these two latest additions below.
Lorna Jane Active Living
Lorna Jane Active Living is an all-in-one exercise and healthy living app. It has a variety of free video workouts covering strength, cardio and stretches, plus meditation, recipes and a movement tracker that uses GPS.
You can save recipes and workouts to your favorites to return to later, but you can also build up an in-app calendar of workouts and meals, so you can always know what to cook and what exercise to do.
There are a lot of other handy tools too. Exercises are explained in text form alongside the videos, an in-app shopping list lets you add ingredients that you need to buy, and you can set and track goals.
Lorna Jane is a clothing brand, so there's also the expected shop section, but you can easily ignore this if you just want the exercises and/or recipes. All in all, this app is surprisingly full-featured and promises to get more so over time, with more exercises set to be added. And while Lorna Jane Active Living is heavily marketed at women, it's worth a look even for men.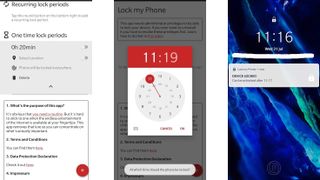 Lock My Phone for Study
One of the more interesting features found on the OnePlus 7 Pro is called Zen Mode, a mode which locks your phone for 20 minutes, so you can't use it even if you reboot it. It's essentially a nuclear option for keeping you from phone-based distractions, but it's one that appealed to a lot of people.
If you don't have a OnePlus handset, you're not out of luck, as a similar app – dubbed Lock My Phone for Study - has been created for other phones.
This lets you completely lock your phone for a duration of your choice, but handily it also has location-based locks, so you can set your phone to only lock when you're in the vicinity of a certain location, and recurring locks, so your phone will lock at the same time every day.
You can still access lock screen shortcuts and answer calls though, so you're not completely cut off from the world.
You can set up one 'lock' at a time for free, which should be all most people will need, but for a $1/£1 IAP you unlock the ability to have unlimited locks set up at once, which will be necessary if you want recurring locks, location-based locks and one-off locks all running at the same time.